Microsoft Teams Calling (Direct Routing)
Add external calling capabilities to Microsoft Teams! Microsoft Teams calling allows users to keep their existing numbers to make and receive phone calls right within the MS Teams app. Replace your old PBX system with a cloud based alternative and centralise your communications and collaboration to one convenient place.
Direct Routing for Microsoft Teams - A Better Way to Communicate
Already using Teams? Convenience is key with MS Teams Calling. Consolidate all your internal and external communications into one unified hub! If your organisation is already using Teams for internal communications, video conferencing, and file sharing then consider taking advantage of Microsoft Teams Calling (Direct Routing). This is a service inside of Teams that allows your organisation to connect to external phone lines and use Teams as a fully-fledged business phone system (PBX).  Keep your existing phone number and make/receive calls all within the Teams app. 
Enhance and upgrade your internal and external communications. Microsoft teams calling takes your business communications to the next level. Replace traditional office desk phones with the devices you use every day, including mobile phones, tablets, and laptops that are enabled with the Teams app. The App interface is modern, intuitive, and easily accessible for both experienced AND new Teams users.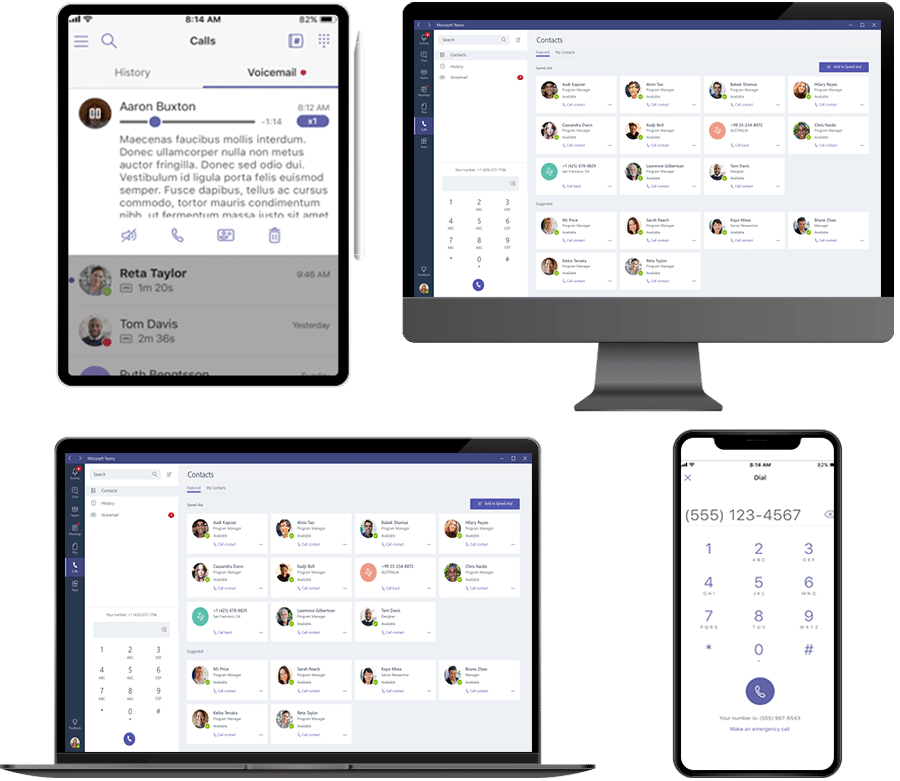 Advantages of Microsoft Teams Calling (Direct Routing)

Consolidate your internal and external communications into one hub! Using Microsoft Teams with Direct Routing allows all users across your organisation to utilise a unified single telephony hub with any Teams enabled device whether they're in the office or on the road.

On premise telephony hardware is expensive and time consuming to install and maintain. With Microsoft Teams, there is no need to manage on-premise PBX equipment. Easily add, modify or remove Microsoft Teams users as your business grows, and only pay for the resources you need.

Microsoft Teams Direct Routing has a simple and intuitive interface. You can also access traditional PBX call-handling functions such as call hold, transfer, forwarding and voicemail all from the cloud, with little training required for new staff.
eStorm's simple and managed Microsoft Teams Calling tailored to your needs
From business conference calls to desktop sharing, instant messaging, video conferencing and regular phone calls - Microsoft Teams does it all. The platform simplifies and enhances your meetings by making them more efficient and powerful.
Joining a Teams meeting requires only a single touch or click on smartphones, tablets, and PCs with mobile and browser-based access. You can use the phone system to call into a meeting from anywhere in the world.
EStorm can help your business use Microsoft Teams to unify voice and video calls, instant messaging (IM) and video conferencing from one easy-to-use application. We are also able to integrate Teams with your email calendar, phone system and Microsoft Office 365 suite to make your workflow and business functionality a simple and intuitive experience.
Ask us how we can help your business today!
Key Features of Microsoft Teams Calling
Enjoy traditional call handling functions like hold, transfer, forwarding and voicemail
Speed up daily tasks by seeing who in your network is available
Simplify calling with one business landline number that lets you receive calls whether you're on the road or in the office
Use a traditional desk phone or any app-enabled device (including tablets and laptops) to make calls the way YOU prefer
Set up auto attendant, call queues, custom ringtones and more from the Teams admin centre
Full list of features here.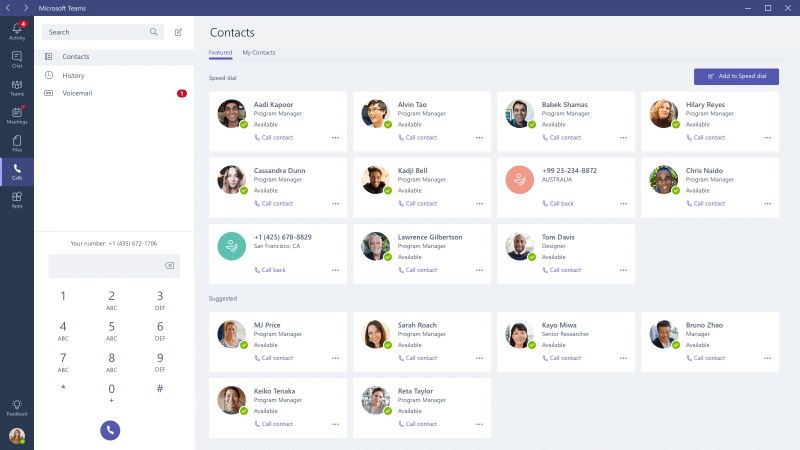 How does it work?
Your business may currently be using a Public Branch Exchange (PBX) phone system, which is traditionally how internal and external phone calls are delivered in organisations. Microsoft Teams can now replace your PBX system (and all associated costs and equipment) with a cloud-based alternative, allowing you to bring all your technology, tools and voice solutions in one place.
Direct Routing is a way to provide a public switched telephone network (PSTN) connection to Microsoft Teams users in order to make and receive external phone calls on any device using Teams. Use your existing telecommunications provider to directly connect their SIP trunks to Microsoft Teams.
Case Studies
Get business driven results with eStorm.
Experience the Estorm difference

As a Microsoft Certified Partner, our team of expert technicians can deploy Microsoft Teams through different architectures and solutions. eStorm can help implement a familiar and consistent user experience across your business' PCs, phones, browsers and tablets. As your work demands the use of different devices, your experience will remain seamless.

A New Way To Work Together
Microsoft times brings a new way for your team to work together, communicate and collaborate. Partnering with eStorm means our team is supporting you every step of the way, from integration to post-implementation support. Meaning you get to spend more of your time focusing on your business and clients.
As today's business environment is so highly dependent upon greater connectivity amongst stakeholders, vendors, customers, staff members and supervisors – […]
When it's time to replace your old traditional phone system there are a number of Internet Protocol (IP) based solutions […]
What is Hosted PBX A Hosted PBX system is basically your phone system in the cloud. Instead of you having […]
Work better with eStorm
See why businesses all across Australia and NZ partner with eStorm Australia