This month Apple released the new iOS 9 update, available for all iPhones and iPads and we wanted to give you a run down on what's new with this update.
Phone Number Lookup

In iOS 9, your iPhone can gather data from the Mail app to suggest who might be calling when an unknown call comes in. The same works for outgoing calls; if you call someone who you have not yet added into your contact list but you have communicated with via email, your iPhone will pull their name and number with a "maybe" next to it, eliminating the need for you to dig back through your emails to find their number.
Searching Settings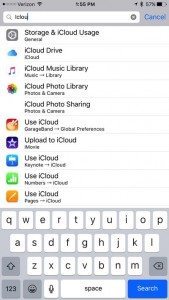 You may remember in previous versions of iOS that you had to go into just about every settings tab in order to do something simple like manage your location services, but with iOS 9 this has become a whole lot easier. One quick swipe down from the top of the settings menu lets you search for any one of the settings that are typically buried.
View all your selfies or screenshots at once

If you head into Photos, you'll find two new sections: selfies and screenshots. Whenever you take a screenshot of something on your screen you it will automatically be placed in a separate folder just for screenshots, making the process of digging through to find something a lot easier. The selfie folder could also be very useful for those trying to narrow down their new profile picture.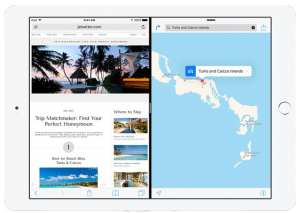 Multi-Tasking

Using an iPad is much more multi-task friendly in iOS 9. You can now see multiple apps on your screen at once, change the size of the split screen and manipulate both windows at the same time. For example, you could browse a recipe on Safari whilst writing a shopping list in Notes using the split screen. Switching between apps can be frustrating so we are big fans of this update!
Create more with Notes

An update to Notes also shows a vast improvement with iOS 9. The updated version allows you to add bold titles, web links, pictures, custom drawings and checklists to enhance the text of the note. You can now use the Notes app to speak thorough notes, complete work and more. Notes also allows for easy note deployment through messages, mail and social media.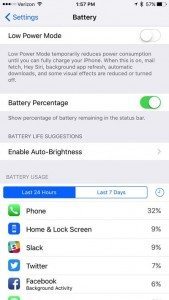 Low-power mode

Although this setting does all of the things we could manually do on an iPhone, this mode does it automatically without us having to think about it. The low-power mode gives you more battery by doing things like stopping apps from refreshing in the background and cutting off animations. Your iPhone will still perform all key functions though.
See what's killing your battery

This brings us to our next point, iOS 9 allows you to see what is draining your battery so you can minimise that app and maximise your battery life if you need to.
The News app

Apple have also reinvented The News app for iOS 9. Instead of having to purchase subscriptions to publications, you can now instantly follow publications such as The Daily Mail for free.