Exclaimer Email Signature Management
Exclaimer is a globally trusted email signature manager dedicated to helping you get the most out of your signatures.
Email Signatures for Office 365, Exchange, Outlook and G Suite
In the modern business world, organisations are expected to have email signatures that are consistent and on-brand. Ensuring brand consistency for all employees, branches and departments within the company can be a difficult task, and you may find that there are multiple out-dated or improperly formatted email signatures still in rotation.
To help solve this issue eStorm have partnered with Exclaimer, who's email signature management solutions allow you to centrally manage your organisation's email signatures. This ensures all users have designs that are consistent with your corporate identity and you get complete control over how your email signatures look, and who should receive which template. Furthermore, with Exclaimer's email signature management solutions, you can utilise professional templates or design new signatures in the cutting-edge Signature Designer, easily add promotional banners, or run email signature campaigns that are targeted by sender, department, or date.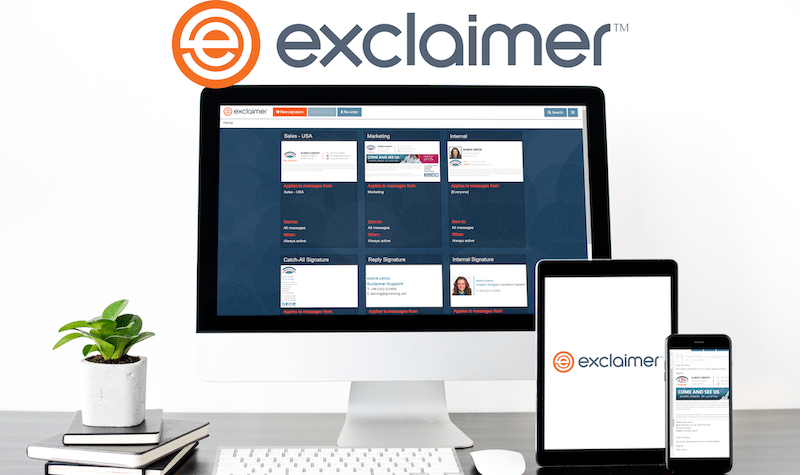 Benefits of Partnering with eStorm and Exclaimer

Every company employee will get a full, dynamic, and professional email signature when sent from any web-enabled device, including mobiles and Macs. Be confident knowing your brand identity will be protected and consistent across every email, every time.

Exclaimer provides the perfect solutions for centrally designing and controlling email signatures across your entire company. You can easily customize signatures for different branches, individuals, and replies or forwards.

Set up specific promotional banners for relevant departments and track clicks for marketing purposes. Add links to social media accounts and new products or blogs in your signature to build your followers.

With the help of eStorm, integrate Exclaimer with Microsoft 365 or G Suite. We can also assist you with everything from set up and design to deployment.
With over 15 years experience, we truly have a passion for what we do.
We believe in developing strong relationships with our clients to ensure we understand your needs and go the extra mile to exceed your expectations.
We design, implement and manage scalable, cost-effective and optimised IT infrastructure and IT services for small businesses to large corporate organisations and educational institutions in Brisbane and all across Australia.
With a wide range of expert technicians, IT consultants, vendor relationships and experience, we partner with you to find the right solution for your business.
Case Studies
Get business driven results with eStorm.
So you've decided it's time to onboard an MSP! That's great. But now you're stuck wondering how to choose […]
Give employees and students the tools they need to have more ah-ha moments at work and in the classroom. Designed […]
RANSOMWARE ACTIVITY IS INCREASING THROUGHOUT 2016 Ransomware is becoming quite a common method of cyber extortion for financial gain.  This is a type of […]
Work better with eStorm
See why businesses all across Australia and NZ partner with eStorm Australia