HubSpot Customer Relationship Management
With HubSpot's user-friendly CRM, you'll never have to manually update reports or wonder how your team is tracking towards their quotas. Partner with eStorm to implement a CRM system that is suitable for all businesses, big or small.
What is Customer Relationship Management? (CRM)
CRM stands for Customer Relationship Management. For most businesses, their most important asset is their customers. As a business grows it is vitally important to have a central place to access information such as who your customers are and how they've interacted with your organisation. Implementing a CRM system allows you to easily access information on potential leads, track sales activity and customer growth, and organise your workflows and business processes.
The most basic CRMs will provide details like the name/contact info of your customers and when they last interacted with your business, allowing you to track your customer growth on the most fundamental level. But we know your business deserves more than the basics, and with eStorm and HubSpot CRM you can take your customer relationships to the next level.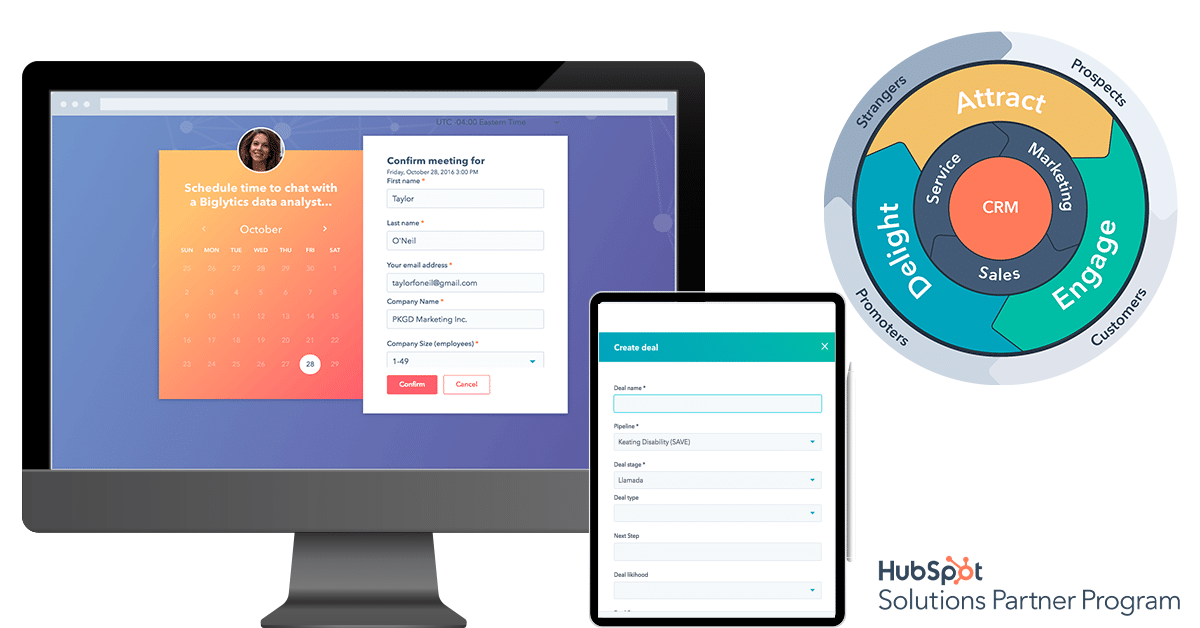 Why partner with eStorm for HubSpot CRM?

Full visibility of sales pipeline
With detailed reports on sales activity, productivity and individual performances, you'll never be in the dark about how your team is tracking towards quota, and you'll have all the data you need to coach your team to success.

With tools that notify your salespeople as soon as a prospect opens their email or visits your website, your team will have all the context they need to follow up with leads at exactly the right time. Free meeting scheduling, live chat, email templates and click-to-call functionality means your prospects have never been easier to connect with.

Manage Your Customer Communications
Improve your response time with time-saving productivity tools. Use Tickets to organise and track all your customers' issues in one dashboard and create templates and canned responses for your most common support queries. With in-depth reports that show ticket volume, category, response and customer wait time, you'll have all the data you need to improve your customer service.

Launch professional landing pages with a free landing page builder, attract more visitors to your site with free ad management tools, and grow your database with free form tools that convert visitors into qualified leads. HubSpot CRM will automatically organise, enrich and track each contact.

Easy Implementation with eStorm
The CRM experts at eStorm will guide you through the implementation process so you can get the most out of HubSpot CRM.
eStorm is your HubSpot Implementation & Consultation Specialist
Whether you're starting from scratch with a brand new CRM or looking to transfer your current CRM data to HubSpot, eStorm will guide you through every step. By assessing your current CRM infrastructure, we'll determine how HubSpot can improve your business or organisation and will strive to help you get the most out of your customer relationship management software.
FEATURES YOU'LL LOVE:
Reporting dashboard
Company insights
Pipeline management
Live chat and chatbot builder
Ticketing
Prospect tracking
Contact management
Company insights
Gmail and outlook integration
Custom support form fields
Ticketing
Email tracking notifications
Meeting scheduling
Messenger integration
Quotes
Using 3CX for your business telephony? Check out our HubSpot & 3CX integration widget!
Case Studies
Get business driven results with eStorm.
So you've decided it's time to onboard an MSP! That's great. But now you're stuck wondering how to choose […]
Give employees and students the tools they need to have more ah-ha moments at work and in the classroom. Designed […]
RANSOMWARE ACTIVITY IS INCREASING THROUGHOUT 2016 Ransomware is becoming quite a common method of cyber extortion for financial gain.  This is a type of […]
Work better with eStorm
See why businesses all across Australia and NZ partner with eStorm Australia