Jamf MDM
Jamf is the standard in Apple enterprise management, allowing you to pair with Mac, iPad, iPhone and Apple TV in order to provide effortless and comprehensive Mobile Device Management.
What is Mobile Device Management?
Mobile Device Management software is used to monitor, manage and secure mobile devices (smartphones, Chromebooks, tablets, iPads, etc.) that are deployed across schools and businesses. MDM solutions provide your institution with end-to-end security. This means you can track lost devices, filter apps, and install the latest updates across hundreds of devices all in one place.
Jamf is exclusively dedicated to helping schools and businesses succeed with Apple. Since 2002, Jamf has helped teachers and employers manage Apple products in the classroom and the workplace, ensuring that technology initiatives reach their full potential.
Whether you'd like to switch MDM solutions, or you're starting from scratch, eStorm Australia is here to help you every step of the way!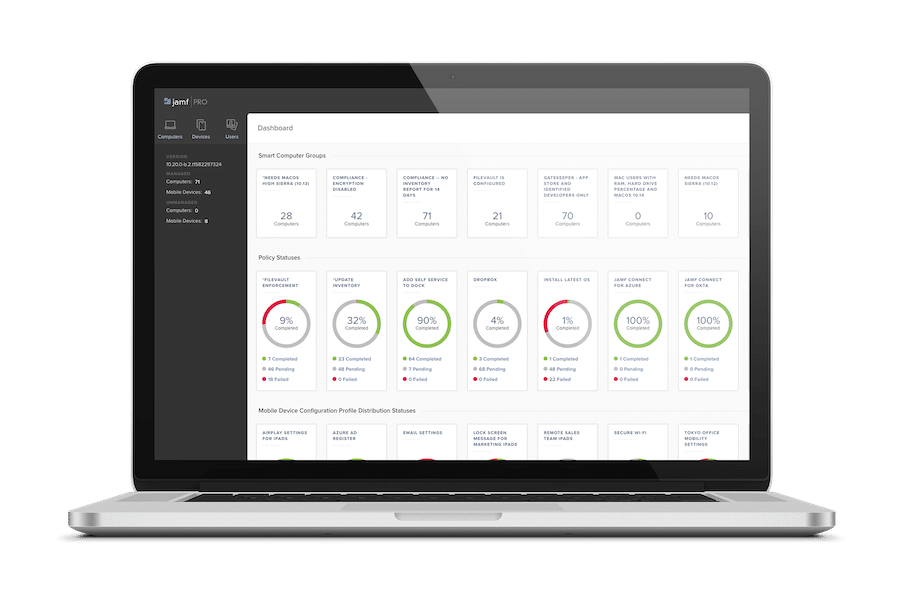 Benefits of choosing Jamf and eStorm for your MDM solutions

Jamf Pro is the leading Enterprise Mobility Management solution for schools and businesses alike. The powerful solution allows IT pros to support employees and teachers by driving end-user productivity and automating device management for enterprises.
Deployment: Combine Jamf Pro with Apple Business Manager or Apple School Manager for zero-touch deployment, allowing you to automatically enrol new devices without the support of an IT team. If you implement bring your own device (BYOD) within your organisation, or you already have a fleet of devices in use, you may implement user-initiated enrolment. Via a webpage, users can self-enrol their device into Jamf Pro, easing the burden on your IT team.
Device Management: Define settings within macOS and iOS and distribute them effortlessly to your devices. Create policies and configuration profiles that go beyond basic MDM capabilities to assist with installing software, managing user accounts, and advanced management workflows. Collect inventory details to recognise which devices need updates and trigger device and software management tasks automatically.
App Management: With integration with Apple Business Manager and Apple School Manager, deploy apps in bulk directly from the App store, and assign apps/re-assign licenses for specific users. Receive alerts when apps or licenses need to be update or patched, and deploy them efficiently while monitoring the process in the inventory.
Security: Enforcing passcodes on iOS devices is made easy with Jamf Pro, plus run policies to turn on FileVault with macOS. Create customised security settings for your business or school through configuration settings, and pre configure VPN settings to easily allow users to connect to your network. Apply password complexity configurations and restrict users from installing certain apps.

Jamf School is a purpose-built device management solution designed for schools. The intuitive web-based interface is designed to make deploying and managing Apple devices as effortless as possible so you can focus on your students.
App Management: Ensure only whitelisted and approved apps are available on student devices and prevent access to social media apps, cameras and web browsers. When Weblock is enabled, students may only visit approved websites within Safari. With iBeacon enabled, students have automatic access to subject related materials, whilst content that is unrelated is hidden.
Classroom Management: Teachers are able to discreetly message students who require help during class to avoid disruption to other students with instant alerts when a student requests assistance.
Locations: Track devices across multiple schools or locations easily. Location support allows teachers and parents to track where the devices are located, send notifications when students arrive to school safely, and help track down lost or stolen devices.
Teacher Help Guide: Determine whether devices need to be charged or updated, and access helpful articles, tricks and tips on how to use Jamf School to get the most out of lessons.
3 Apps in 1 Solution: Jamf School Management isn't just for teachers. The solution pairs with 3 apps:
Jamf School Teacher allows teachers to manage their class and keep students focused
Jamf School Student gives students restricted permissions to their devices to focus on their education without games or social media as distractions
Jamf School Parent gives parents control over their children's devices in order to monitor their school and home activities
eStorm is your trusted Brisbane-based Jamf MDM expert.
With over 15 years experience in Information Technology, we have helped numerous schools and businesses across QLD and Australia achieve and advance their technological initiatives. We have partnered with only the very best tech companies in order to provide IT solutions that are guaranteed to make the biggest impact on your organisation.
For MDM solutions for non-Apple devices, visit our Mobile Guardian page.
Not sure if Jamf MDM is the right solution for your school or business? Contact eStorm for a free assessment of your current MDM requirements and infrastructure!

Case Studies
Get business driven results with eStorm.
So you've decided it's time to onboard an MSP! That's great. But now you're stuck wondering how to choose […]
Give employees and students the tools they need to have more ah-ha moments at work and in the classroom. Designed […]
RANSOMWARE ACTIVITY IS INCREASING THROUGHOUT 2016 Ransomware is becoming quite a common method of cyber extortion for financial gain.  This is a type of […]
Work better with eStorm
See why businesses all across Australia and NZ partner with eStorm Australia