Mobile Guardian MDM
Mobile Guardian is a modern and reliable Mobile Device Management solution for both businesses and schools
What is Mobile Device Management?
Mobile Device Management software is used to monitor, manage and secure mobile devices (smartphones, Chromebooks, tablets, iPads, etc.) that are deployed across schools and businesses. MDM solutions provide your institution with end-to-end security. This means you can track lost devices, filter apps, and install the latest updates across hundreds of devices all in one place.
Mobile Guardian is a powerful Mobile Device Management solution fit for businesses and schools alike. The multi OS platform currently supports iOS/macOS, Chromebooks and Android devices.
Whether you'd like to switch MDM solutions, or you're starting from scratch, eStorm Australia is here to help you every step of the way!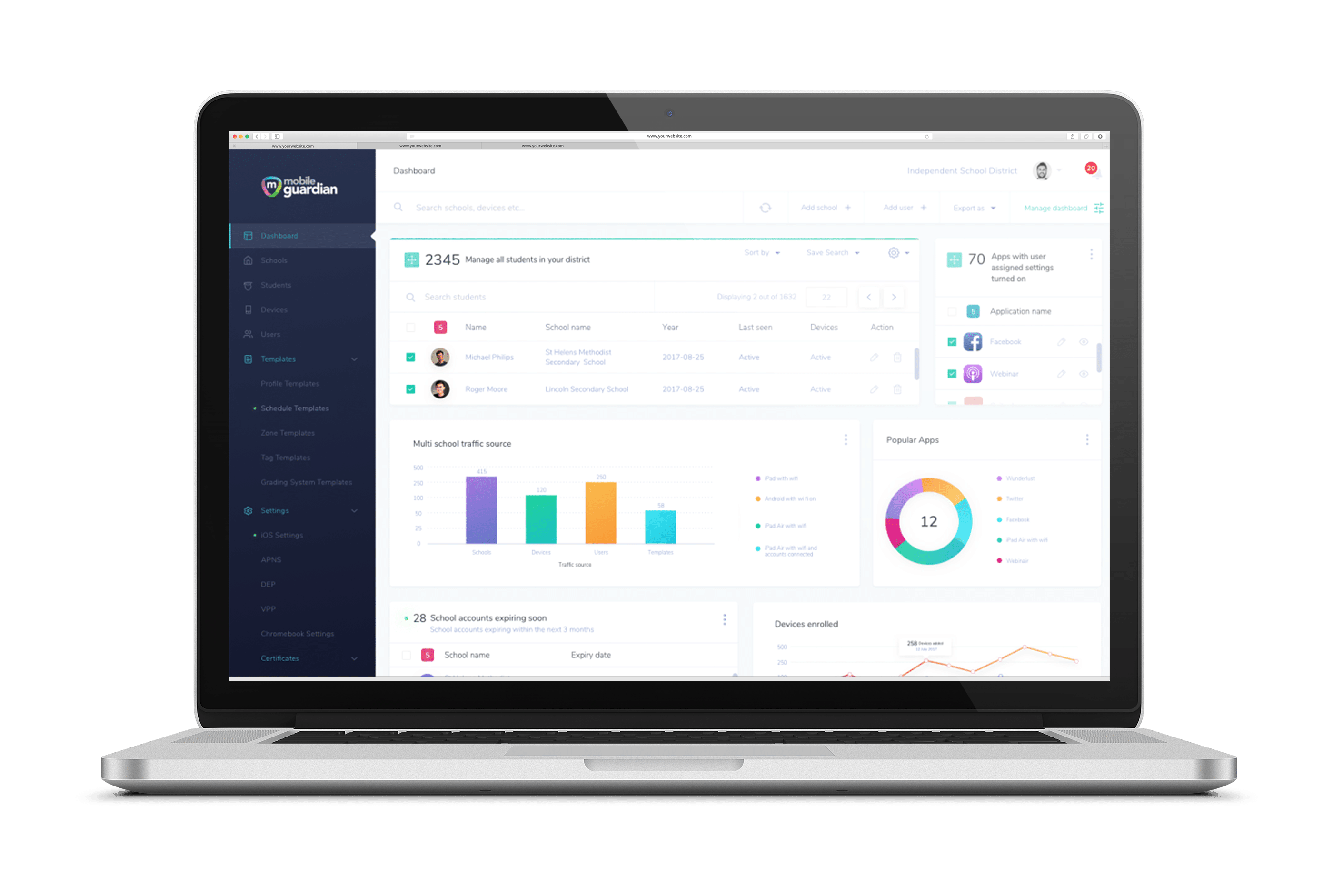 Benefits of choosing Mobile Guardian and eStorm for your MDM solutions

Mobile Guardian has everything you need to manage every device within your company. Save time, decrease costs and improve efficiency amongst your employees with Mobile Guardian!
Increase productivity: Configure settings on devices to prevent procrastination and increase productivity
Save time: Send apps and software updates to every device within your organisation at the touch of a button
Track devices: Lower the chance of loss and device theft by monitoring and tracking devices to ensure you know where they are at all times.
Security: Manage device settings, restrict malicious software and path/update devices without user interaction
Mobile Guardian was designed for education. As such, it boasts plenty of incredible features to mange devices and ensure the safety of students on - and off - campus.
Remote app management: Install, update and remove apps on devices without ever leaving your desk
Off-site web filtering: Whether the device is at school or home, your school's Acceptable Usage Policy is always honoured
Inventory management: Ensure all mobile devices are accounted for, check their battery usage and make sure they have the latest software updates.
Multiple filtering options: Filter web content by category, keyword, URL or YouTube channel
Remote media distribution: Distribute media such as websites, PDFs, web  clips and audio files at just the touch of a button
Mobile Guardian's Classroom Management Tools
On top of Mobile Guardian's key MDM features, they also provide Classroom Management Tools that empower teachers and help keep students focused during class.
With classroom management tools you can: 
- Quickly communicate with students and keep the lesson on track by instantly locking devices or activating 'eyes up'
- Set devices to single-app mode to keep students focused during lessons or exams
- Message students directly to remind them to stay focused or to assist with any questions they may have without disrupting the rest of the class
- See what content the device can access and push learning content to devices during lessons
- Check what students are doing on the devices and how much time they are spending on certain applications
eStorm is your trusted Brisbane-based Mobile Guardian expert.
Not sure if Mobile Guardian is the right solution for your school or business? Contact eStorm for a free assessment of your current MDM requirements and infrastructure!

Case Studies
Get business driven results with eStorm.
So you've decided it's time to onboard an MSP! That's great. But now you're stuck wondering how to choose […]
Give employees and students the tools they need to have more ah-ha moments at work and in the classroom. Designed […]
RANSOMWARE ACTIVITY IS INCREASING THROUGHOUT 2016 Ransomware is becoming quite a common method of cyber extortion for financial gain.  This is a type of […]
Work better with eStorm
See why businesses all across Australia and NZ partner with eStorm Australia