Outsource Your IT Services & Support
Hiring IT staff with the right skills for new projects and business expansion is both expensive and time-consuming. With eStorm's outsourced IT management, you harness the knowledge and skills of our expert IT department, without the price tag.
Leverage outsourced IT support
For high-quality technical support processes and expert knowledge, organisations of all sizes are turning to outsourced IT companies. In today's landscape, technology isn't added value, it is vital to business success and competitive advantage. That's why it is important to possess the right resources, infrastructure and expertise for fast, secure and reliable IT.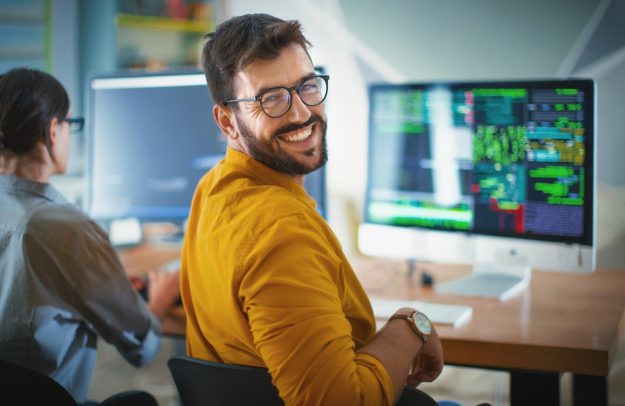 Benefits of eStorm's Outsourced IT Services

Having an efficient IT service provider is a cost-effective solution for your business. IT outsourcing saves you both time and money while making work life easier and more productive.

Don't let poorly managed IT slow your business. At eStorm, we continue to invest heavily in to deliver the right service to you and achieve vendor certifications.

24/7 Support, on-site and remote
Our proactive approach to IT management ensures your business is protected from security threats, sudden hardware failures and system faults.

Guaranteed fast response times
Our IT technicians are just a click or call away, with response times within the hour. Meaning your staff are no longer spending valuable work hours searching for fixes to IT problems.
Scalable, budget-conscious and secure outsourced IT services
Our core business revolves around removing the burdens and challenges you face with IT systems and projects of all sizes. Our outsourcing solutions were designed with scalability, downtime minimisation, flexibility and cost-effectiveness in mind. We achieve results by increasing the efficiency of your IT environment and helping you integrate the appropriate technology for your needs.
At eStorm, building a strong relationship with our clients is at the core of what we do. We pride ourselves on truly understanding your needs and tailoring relevant solutions. We work hard to deliver lightning-fast response times, minimise downtime and apply a budget-conscious approach.
Case Studies
Get business driven results with eStorm.
The disadvantages of internal IT

Limited or no IT support when key staff members are sick or away
Internal IT environments become limited by the internal IT person's area of expertise, rather than providing the best solutions available.

Increased staffing costs associated with hiring, retraining, leave expenses etc
Difficulty keeping up to date with new technology, which leaves you at risk of falling behind and not remaining competitive.
Work better with eStorm
See why businesses all across Australia and NZ partner with eStorm Australia