Iron Man, aka Tony Stark, wouldn't be able to do half the incredible things he does without his artificial intelligence system named J.A.R.V.I.S.
J.A.R.V.I.S. is forward-thinking, always assessing the risks, prepared for when disaster strikes and essential to Iron Man's success.
What if your business had a J.A.R.V.I.S.? What if you had someone guiding you in the right direction, that allowed you to focus on moving forward and empowered you to do more?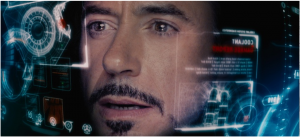 This is where a Virtual CIO comes in.
What exactly is a Virtual CIO?
A Virtual CIO is an outsourced role that combines the tasks managed and maintained by chief information officers, chief technology officers and technology consultants.
Virtual CIOs are responsible for providing technological leadership, as well as developing and managing strategic and forward-thinking systems and infrastructure that is designed to accomplish the organisation's overall business objectives, as well as improve organisational scalability and agility. While their decisions encompasses technology, they are also involved in decision making that supports the long-term growth and strategy of the business with a focus on bridging the gap between small business and large enterprise.
What are the benefits of a Virtual CIO?
You gain the knowledge, skills and expertise of an entire team of IT professionals
Cost reduction: a Virtual CIO makes it possible for SMEs to access the IT capabilities and expertise of the largest organisations without the significant cost of a permanent CIO.
Competitive advantage: as we are across relevant and timely industry and technological changes, we are able to provide trusted, informed and effective planning and advice to stay ahead of your competition.
Thorough assessment and audit of your overall IT process and configuration policies, as well as providing guidance on the most effective changes that will promote secure and cost effective networks.
Development of strategic IT goals that align with wider business goals.
Partnership based: we love to immerse ourselves in your business and invest in your success in order to provide you with maximum benefit (our level of input in your business is entirely up to you).
IT planning, budgets, staffing, business continuity and disaster recovery processes.
Involvement: on-site visits and support, as well as management and planning meeting attendance to stay up-to-date with your business.
Proactive monitoring, measurement and maintenance of IT health and security with a focus on keeping data safe, secure and accessible. 
Design: we are able to design and implement tailored solutions for your needs.
Consultation and troubleshooting.
You can learn what a Virtual CIO service is and how they can be tailored to your organisation's size and needs.
If you'd like any further information, assistance with your IT needs or you simply don't know where to start – please feel free to call us on (07) 3120 0640 or email us at [email protected]