Microsoft have globally released Microsoft Office 2016 for Windows and Mac, as well as several new and enhanced Office 365 services today.
Office 2016 will bring new versions of desktop apps, including the popular programs Word, PowerPoint, Excel, Outlook and Access.
Microsoft is recommending the new update particularly to enterprise customers, as the Office 2016 includes a range of security features; including support for data loss prevention across the Office 2016 apps, multi-factor authentication and "other mission critical control capabilities", according to a blog by general manager of Office 365 technical product management, Julia White.
Microsoft launched its Windows 10 update in July, designed to work across laptops, desktop and smartphones and Office 2016 has been designed to work smoothly with the operating system update.
The new Office 2016 apps are available in 40 languages and require Windows 7 or later versions. Microsoft also said starting Tuesday, Office 365 subscribers can choose to download the new Office 2016 apps as part of their subscription.
What's new in Office 2016:
Word

In the Word app there are finger-friendly cursor controls for easy text selection, copying and pasting, plus tapping on a spelling mistake brings up a touch menu of possible replacement words. There's also a new Bing-powered feature for Word called Insights, and this looks up background information, websites and news stories for selected words. Track changes, comments and co-editing are available too, as mentioned below.
Excel

Excel has benefited from a substantial makeover, and additions including snap functions and smart scrolling which make tapping in your spreadsheet data an easier process. It has the same touch-friendly interface, but it's not as stripped down as with Word, and it has a status bar that lets you switch between sheets in your workbook and view the results of common formulas for selected cells.
Design

Office 2016 includes colourful new themes that match closely with the Windows 10 themes, and the latest office releases for Mac, iOS and Android apps. The colourful range of options appear on application ribbons and include blue for Word, green for Excel and red for PowerPoint. Ribbons also are redesigned slightly to make room for the ever-present "Tell Me" search field, detailed below.
"Tell Me"

Perhaps one of the most helpful inclusions of Office 2016, the Tell Me box has been incorporated to help users be more productive in Office 2016. Microsoft has added the Tell Me box that sits in the centre top of the program title bars for Word, Excel and PowerPoint. Embedded in the title bar's ribbon just to the right of a lightbulb is the search field with "Tell me what you want to do…"
If users need help trying to figure out how to add an image to a Word document, create a formula in Excel or add an animation to their Powerpoint project, simply ask the Tell Me box. Just start typing in questions using natural language query, and Microsoft will narrow the answer down the best it can.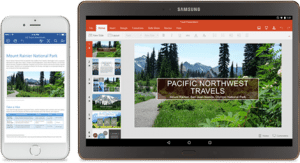 Bring it all together with OneDrive cloud storage
Easily save to your cloud storage and switch from one device to the next without missing a beat. Office apps pick up right where you left off, regardless of the device you were using.
Move over Powerpoint…Sway is here

Sway is the new, 'cooler' way to create a presentation. Sway allows you to drag and drop photos, videos and files from YouTube, a computer, Facebook, Twitter or OneDrive onto a web browser, smartphone or tablet app. Sway lets you organise content in an engaging way to help communicate in a nonlinear (PowerPoint) manner.
Sway, in preview since October, will be available in Office 2016 and to business and education subscribers in Office 365 later this year.
Real-time co-editing In Word

Another extremely useful feature Microsoft has added to Office 2016 is a feature that Google Doc users have been enjoying for years now – real-time co-editing in Office documents. Real-time co-editing makes it easier for teams working on the same document not to double up or change information without the other team members knowing.
Real-time presence in Word

Part of co-editing in Word is actually seeing what the other person is doing – as they are doing it. To achieve that, Microsoft has added a Real Time Presence feature that allows a user to see where in a document teammates are editing.
Attachments to emails made easier

Outlook also got an update in Office 2016. When a user adds an attachment to an email, the Attach File menu option now includes Recent Items, which includes any Office documents that have recently been closed. This will save you the trouble of searching through all of your files to find what you are looking for.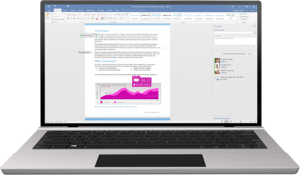 Work groups Via Outlook

Outlook 2016's other new feature involves creating work groups. Microsoft believes teams are collaborating more via email, video, IM, and in physical and virtual meetings. To help facilitate this cooperation and collaboration, Microsoft have added the ability to keep tabs on group activity, access conversation history, and manage files and group notes stored on OneDrive.
Upping security in Office 2016

This update is particularly beneficial for business customers. Microsoft have upped the security in Office 2016 with tools to prevent data leakage and manage file permissions. Administrators now can enable and set Data Loss Prevention policies for Word, Excel and PowerPoint.
From the management point of view, policies can fight data leakage by allowing administrators to restrict what files can be sent to whom, and prevent data from being copied and pasted outside of Office 2016 applications.
IT administrators can place restrictions ranging from "notification" of a violation, allowing users to "override" rules with a justification, to finally "block" dissemination of content. In addition, Microsoft adds file-level encryption of Outlook, Word, Excel and other content. One also can choose to store data in a Customer Lockbox to control whether Microsoft can access sensitive information.
Better security: Word

The Data Loss Prevention features are extended to Outlook, Word, Excel and PowerPoint. Users will be alerted when inside an app if they try to save a file containing confidential information in a directory, folder or service where it might not be secure.
Skype embedded into Word, Excel And PowerPoint

Microsoft has integrated Skype into Office 2016. Users can now initiate Skype voice and video calls, and text-based chats directly from within an Office document.
Overall, Microsoft have included a lot of new and updated features in Office 2016.
For information on pricing, or how to upgrade your service, please contact the eStorm office on 1300 378 676 or [email protected]