Microsoft Teams
Whether you are a small or large corporate business, a consistent communication experience is essential for employee productivity and client experience. Here at eStorm, we deliver a seamless communication experience through Microsoft Teams in Brisbane.
Revolutionise Team Communications
As an official partner of Microsoft, the eStorm team is ready to introduce your business to Microsoft Teams. This enterprise-level collaboration tool is revolutionising how businesses communicate internally and externally. Microsoft Teams has transformed working from home and made teamwork easy.
The app provides a space for members to instant message, voice recording, video and conferencing. Using a single communications app like Microsoft Team simplifies the deployment, adoption, application and support for your business.
| | IGNITE CLOUD | IGNITE PLUS |
| --- | --- | --- |
| Service Desk Services | | |
| 24/7 Service Desk | | |
| Mr. Bruno Stevens | WordPress Developer | New York |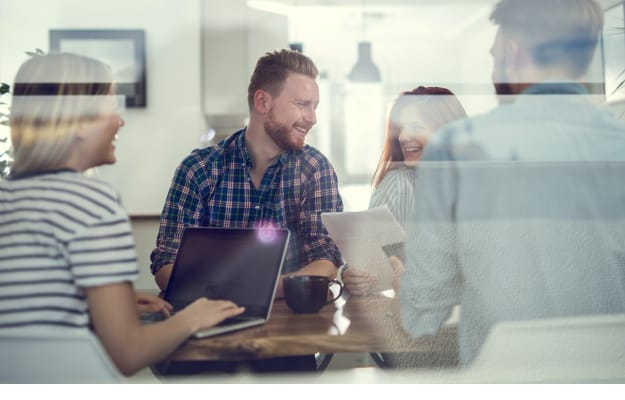 Get Started with Microsoft Teams

The chat-based platform provides all team members with the same message in real-time. Everyone can collaborate and keep the discussion following, meaning you reach solutions faster.

Microsoft Teams allows you to integrate the platform with third-party services. You can customise your workspace to your team's liking, helping everyone to stay on top of team-related tasks.

Microsoft Teams gives your IT department substantial control over all work mobile devices with Teams, by using mobile device management (MDM) capabilities of Microsoft Intune in Office 365 Teams.

The systems interface displays your scheduled and past appointments and meetings by syncing with your Office 365/Outlook and Google Calendar.
Microsoft Teams: A platform that does it all
From business conference calls to desktop sharing, instant messaging, video conferencing and regular phone calls - Microsoft Teams does it all. The platform simplifies and enhances your meetings by making them more efficient and powerful.
Joining a Teams meeting requires only a single touch or click on smartphones, tablets, and PCs with mobile and browser-based access. You can use the phone system to call into a meeting from anywhere in the world.
EStorm can help your business use Microsoft Teams to unify voice and video calls, instant messaging (IM) and video conferencing from one easy-to-use application. We are also able to integrate Teams with your email calendar, phone system and Microsoft Office 365 suite to make your workflow and business functionality a simple and intuitive experience.
Case Studies
Get business driven results with eStorm.
Experience the eStorm difference

As a Microsoft Certified Partner, our team of expert technicians can deploy Microsoft Teams through different architectures and solutions. eStorm can help implement a familiar and consistent user experience across your business' PCs, phones, browsers and tablets. As your work demands the use of different devices, your experience will remain seamless.

A New Way To Work Together

Microsoft times brings a new way for your team to work together, communicate and collaborate. Partnering with eStorm means our team is supporting you every step of the way, from integration to post-implementation support. Meaning you get to spend more of your time focusing on your business and clients.
Microsoft Azure provides different technologies which enable you to build robust application, data and process integration solutions. One of the core […]
People are already very excited for the upcoming Microsoft Surface Pro 5. Reports have it that it will be out as […]
Augmented reality has evolved hugely in recent years within classrooms. Educators will feel far less overwhelmed when trying to introduce AR in […]
Work better with eStorm
See why businesses all across Australia and NZ partner with eStorm Australia