Melbourne IT Support Services
Make IT your competitive advantage through embracing technology that advances your business with eStorm's Melbourne IT support services
Melbourne Business IT Support Tailored to Your Needs
No matter how big or small your company is, eStorm provides tailored and reliable IT support services to Melbourne. We offer a range of solutions that can be customised to suit your company's needs and assist your organisation in areas where you require IT support the most.
How can eStorm Help?
eStorm's business IT support experts know there is no one-size-fits-all package when it comes to finding the right IT solutions for your organisation. Whether you need to update your business telephony, back up your servers in the cloud, or transfer the burden of managing your IT environment so you can focus on what matters most, eStorm is here to guide you every step of the way.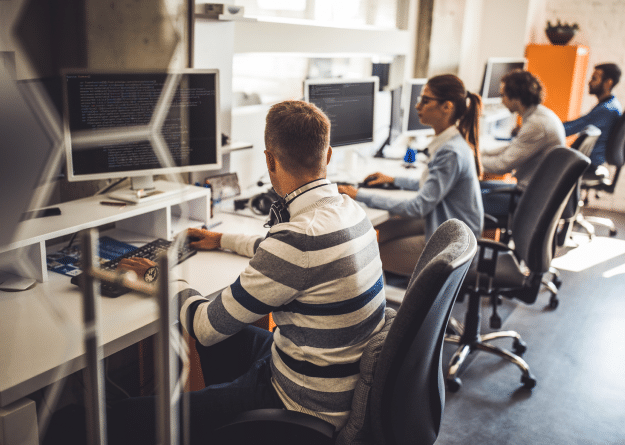 eStorm: Your Dedicated Melbourne IT Support Services Partner
Our team is skilled in all areas of business IT services! We support Windows, Mac and Linux environments, with packages to suit a range of needs and requirements.
Be it a simple desktop problem through to security concerns or complex networking issues, we not only have the skills but the dedication to predict and fix issues as they arise.
Contact eStorm today for more info on our business IT support Solutions
Case Studies
Get business driven results with eStorm.
Why choose eStorm as your trusted Melbourne IT Support provider

Your competitors aren't spending their time troubleshooting and fixing their own computer problems. Their Microsoft Outlook isn't loading emails? They're not spending time running a search on Google for how to fix it. They're picking up the phone and having their IT Support partner connect to their computer to fix it in minutes so they can get back to working on their business.

With dedicated Australia based account managers and over 15 years of experience, we are your IT Support operations team. We are your information technology experts, your IT service desk, your cloud computing experts, and your tech support team. Any IT related enquiry, we're just a phone call or email away
From guaranteed fast response times, unlimited support hours (on-site and remote), and tailored IT support service solutions, the friendly eStorm team is here to support you.
Work better with eStorm
See why businesses all across Australia and NZ partner with eStorm Australia