Hosted PBX Phone System Service
The best business VoIP PBX phone system that guarantees quality. Reduce your costs while increasing functionality and capability with eStorm's hosted PBX solution.
What is hosted PBX?
Hosted PBX or Hosted VoIP, also known as a Virtual PBX, is an Internet phone system or private branch exchange. Put simply, a Hosted PBX is a private telephone network used within a company to make and receive phone calls outside of the business, delivered as a hosted service.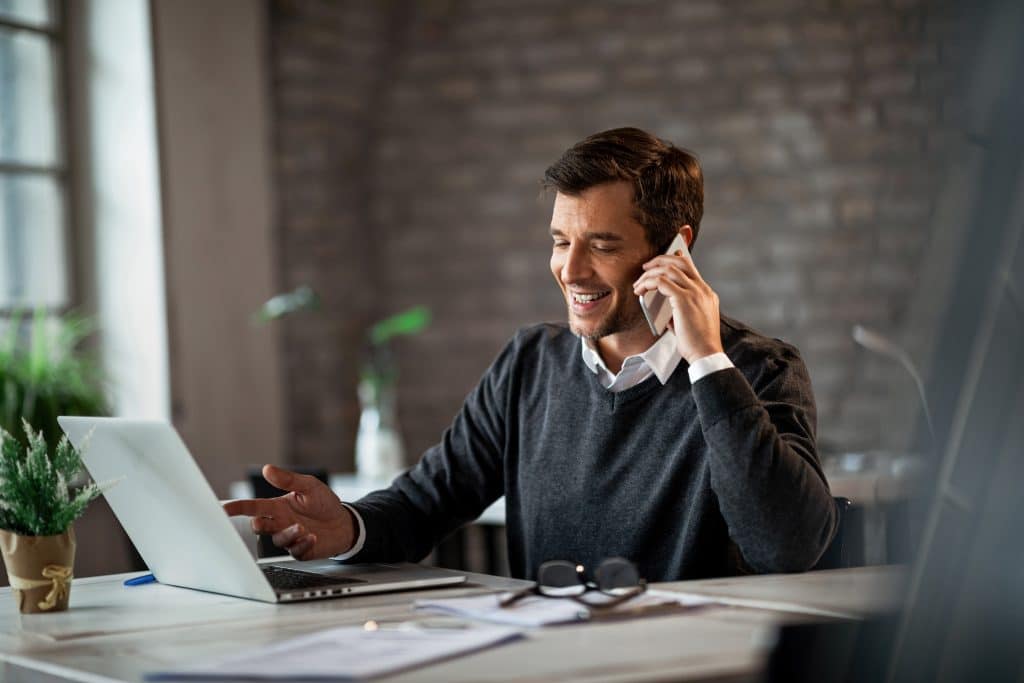 The benefits of using a hosted PBX (Virtual PBX / Cloud PBX / IP PBX)

Simple Integration & Maintenance
The third-party provider is responsible for running, managing and upgrading the Hosted PBX. No training or specialty knowledge required for running the phone system or adding extensions etc., as the PBX provider maintains the system.

A significant reduction in installation, operation and maintenance costs. Low monthly service cost. Potential to reduce telephone costs by up to 80% by leveraging SIP trunks, WebRTC, free calling to remote extensions and reducing the number of telephony lines.

Superior call quality when paired with the right internet connection. PBX housed in a data centre environment could see an increase in efficiency and stability, as data centres are specifically equipped with cooling and other infrastructure to house them.

Scalable with the growth of your business. Superior integration – including CRM integration. Simple addition of extra lines.
So why partner with eStorm for your hosted PBX solutions?
At the user level, an employee's IP desk phone connects to a router where the calls, signalling and features all run through an IP-PBX server based at the service provider's location. This means that the provider is responsible for housing the Internet Protocol Private Branch Exchange (IP-PBX ), as well as maintaining and managing the technology required to provide the services to the phone system.
As a certified 3CX Silver Partner, you can trust eStorm to provide your business with a tailored business phone system.
Whether you're looking for the best-hosted PBX for small business or enterprise-level communication services, eStorm has everything to support your business needs.

Case Studies
Get business driven results with eStorm.
Off-Site PBX hardware and management

eStorm Brisbane has one of the highest quality VoIP networks in Australia, allowing us to provide you with our sound quality guarantee. This means our hosted PBX phone systems support call quality that is the same, if not better than a regular phone call. Our premium network enables us to be one of the only VoIP providers in Australia able to provide this promise.

eStorm Australia's Business VoIP customers enjoy a 99.99% available service, ensuring that your business communications services are always available for your use.
Our PBXaaS (PBX as a Service) offers an affordable and advanced telephony service that eliminates on-site PBX hardware, which allows you to choose to remove phones and cabling all together. With features such as multi-way calling, voice to email and call diverting, internal and external communication could not be easier.
As today's business environment is so highly dependent upon greater connectivity amongst stakeholders, vendors, customers, staff members and supervisors – […]
When it's time to replace your old traditional phone system there are a number of Internet Protocol (IP) based solutions […]
What is Hosted PBX A Hosted PBX system is basically your phone system in the cloud. Instead of you having […]
Work better with eStorm
See why businesses all across Australia and NZ partner with eStorm Australia