IT Support for Schools & Education
The challenging budget cycles faced by many educational institutions and education service providers often make it difficult to innovate and grow. At eStorm, our school IT support services for the education sector are uniquely positioned to dramatically reduce operational overheads while improving efficiencies through working with existing IT teams.
School IT support services that allow your teachers and students to thrive!
Your teachers and staff don't have time to be troubleshooting technological issues when they're busy providing the best learning outcomes for your students.
That's why your school deserves reliable IT support services that can keep up with the demands your teachers, staff members, and students.
Our IT support services for education are designed to deliver flexible support to existing IT teams. We help ensure your IT environment and IT solutions are secure, reliable and tailored to your specific budget and needs.
No matter the existing or future environment, our certified technicians can deliver multi-platform support including Microsoft support, Apple support and Linux support. Likewise, we can help establish cross-platform environments by running your Apple devices on your school's Windows network.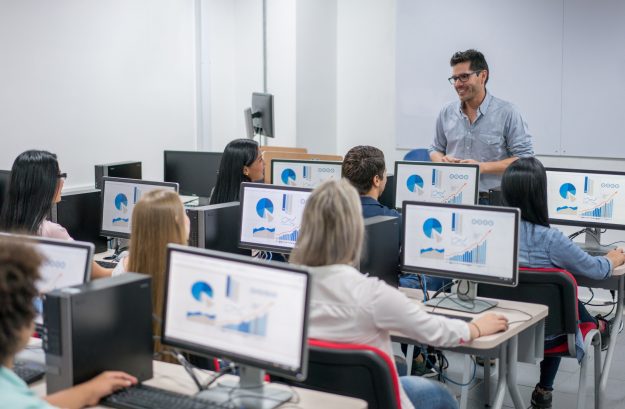 eStorm's School IT Support Services
eStorm provides a number of school IT support services, ranging from Mobile Device Management, procurement, co-managed IT solutions, and more!
Your in-house IT team may be too busy fixing or troubleshooting devices to monitor your systems effectively. With our co-managed IT solutions, we can take over the maintenance and monitoring of your systems to proactively prevent technological issues from effecting student and teacher learning outcomes. We have extensive experience identifying issues with irregular backups, cumbersome internet filtering, untidy network cabling, and poor network configurations. As such, we can guarantee our solutions will drastically improve your school's daily operations.
Mobile Device Management is essential for schools using both BYOD or 1:1 device programs. Our MDM solutions are specifically designed for schools and education institutions to simplify administration, plan for deployment, and provide the flexibility to safely and easily manage your fleet of mobile devices.
We will support your school from every step from configuration to deployment in order to ensure you get the most out of your MDM solution.
Our education device procurement service supports schools in their needs for tech expansion. As a leading education tech support provider, our goal is not only to provide the technology, but to ensure teachers have the knowledge and resources to successfully support student learning.
We have close partnerships with most major technology giants (including Apple, ASUS, Microsoft, Kyocera, Jamf, and more) and can assist your school in sourcing the right technology with discounts for the education sector that will match your school's budget.
Make the leap from BYOD to an institution-owned device program with eStorm Australia! We have worked with dozens of schools by preparing and procuring a 1:1 institution-owned device program that WORKS. We support your school in bulk purchasing iPads, assessing your IT infrastructure, registering and enrolling your devices, and deploying your new iPads.
We can also organise professional development programs with expert Apple learning specialists, so your teachers can use iPads to enrich student learning.
Our specialist education services

We specialise in working with your existing IT team to provide flexible end-to-end IT support that ensures you're maximising your IT investment to benefit both staff and students.

You have access to our technical specialists via our Help Desk. We can remotely manage and monitor your school's active networks, server platforms and server applications.

Available when you need it
eStorm have an Australian based Help Desk and online portal, as well as onsite engineer days to supplement your existing IT team and provide advice, guidance and hands-on support.

24/7 monitoring of ICT infrastructure if required
A response-based contract
Full time on site technician if required
Through working closely with schools and learning institutions across Australia, we've come to deeply understand their unique needs and IT challenges
We understand that the performance and reliability of your school network, servers and devices is paramount to the smooth and successful operation of your learning environment.
At eStorm, we partner with you to understand your IT and operational needs. We assess your current IT environment capabilities and work with your existing IT team to design and implement cost-effective solutions that deliver superior performance.
The goal in our approach is to remove the day-to-day challenges and hurdles that arise with your IT infrastructure and environment, ensuring your team are freed up to focus on more valuable initiatives.
eStorm is a Department of Education QLD Preferred Supplier!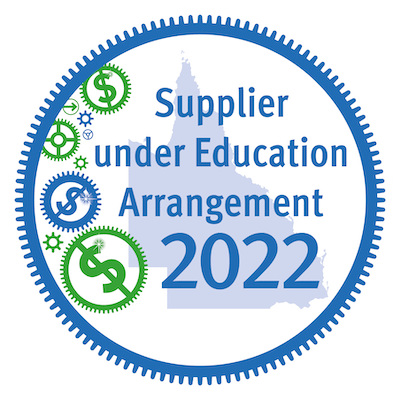 Case Studies
Get business driven results with eStorm.
So why partner with eStorm for education support?

eStorm has supported the IT business needs of public and private universities and colleges, K-12 schools, professional Education organisations, and corporate learning services. From the smallest institutions to the largest organisations and services, eStorm delivers complete IT business services and support to help deliver effective teaching and learning.

Supporting teachers & students

Most schools have a Digital Learning program (of some kind) in place. Conversely, teachers and educators aren't necessarily equipped to deal with, and apply to their discipline, the technology available to them.
This is where eStorm comes in. We can fully equip and educate staff to support them in their education of students.
Work better with eStorm
See why businesses all across Australia and NZ partner with eStorm Australia