ISO 27001 Certification Services & Consulting
Achieve ISO 27001 certification and improve your organisations cyber security maturity with eStorm's comprehensive and effective ISO 27001 Certification & Consulting Services.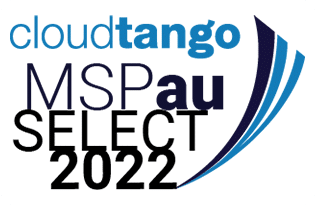 Fast-track ISO 27001 Certification with eStorm Australia
In today's global market it's not enough to claim your business is secure without the proof to back it up. Investors, potential clients, and businesses you work with want assurance that your organisation is doing every thing it can to protect your sensitive information, fight against cyber risks/threats, and mitigate risks that could potentially lead to disaster.
ISO 27001 certification provides that assurance. ISO 27001 is a globally recognised information security management system that sets yourself apart from other businesses, proving that your organisation is committed to the development, improvement and protection of your information and sensitive data. However, it's no secret that the certification process can be gruelling and tedious.
Achieving ISO 27001 Certification can be an overwhelming, time-consuming and frustrating experience.

We can change that.
ISMS Experts
Having gone through the ISO 27001 certification ourselves, we're dedicated to getting your organisation to the finish line no matter the obstacles. Fast-track your certification and build lasting effectiveness of your information security management system.
Goal-Focused
ISO 27001 certification can be an overwhelming, time-consuming and frustrating experience. We can change that. We have helped dozens of businesses across Australia achieve ISO 27001 accreditation as seamlessly and painlessly as possible.
Complete Support
From consulting to implementation, eStorm Australia will provide tailored support to achieve your certification and compliance goals no matter where you are in your ISO 27001 journey.
Strategic
Our ISMS road map is efficient, strategic, and tailored to your organisation. We promise to give you the confidence that your project is compliant with ISO standards and ready to seek official certification.
eStorm's ISO 27001 Services
eStorm Australia offers a host of ISO 27001 services ranging from complete end-to-end implementation to get you certified, to posture assessments, internal audits and broad advisory services tailored to your organisation.
We dive into your organisation's security practices to highlight any areas where your security controls are inadequate and determine how they map to your ISO 27001 certification. The cyber security assessment will identify risks in your IT and information security (such as user risk and endpoint health) while also defining your current security posture and maturity.
Furthermore, the cyber security assessment highlights gaps or weaknesses in your security processes. This helps us determine and prioritise the ISO 27001 control methods needing immediate implementation.
Our extensive experience with helping organisations solve their information security management challenges means we understand that one size does not fit all. We will work with your business leaders to create a collaborative partnership that ensures we understand the ins-and-outs of your organisation.
This understanding means we can create a compliance and implementation strategy that will get you on the fastest path to certification with the least amount of disruptions to your daily operations.
Our gap analysis/assessment will be unique to the needs of your business, and will highlight areas where your security controls may be inadequate or unaccounted for. Our gap assessment can either be a quick review of the implementation of your security controls, or a comprehensive and evidence based analysis that mimics a true ISO 27001 audit.
A risk assessment with our security advisors will provide you with the necessary guidance to become ISO 27001 compliant, including an action plan for the prioritisation of your tasks via strategic changes to your networks, information systems, and end user devices.
It's vitally important you implement the security controls in a way that aligns with the requirements to achieve certification. Our partnerships with major tech giants means we can establish flexible solutions and software that are appropriate for your business.
By following Microsoft's 'Zero Trust' security model, we leverage Microsoft security solutions that expedite compliance with the control methods outlined in ISO 27001. Once we have determined which Microsoft security solutions are applicable to your business we will deploy them accordingly.
ISO 27001 Certification - here we come!
Don't delay - get started on ISO 27001 certification today
eStorm Australia provides targeted support to help you achieve certification as quickly and painlessly as possible. No matter where you are in your ISO 27001 certification process, we can assist in building a path to success that offers the least amount of resistance on your journey.
When designing your individual ISO 27001 certification package, we will address your current cyber security maturity and take into account any progress you have previously made for each phase of ISO 27001. This allows us to tailor a cost-effective and unique ISO 27001 solution that addresses your unique needs, challenges, and objectives.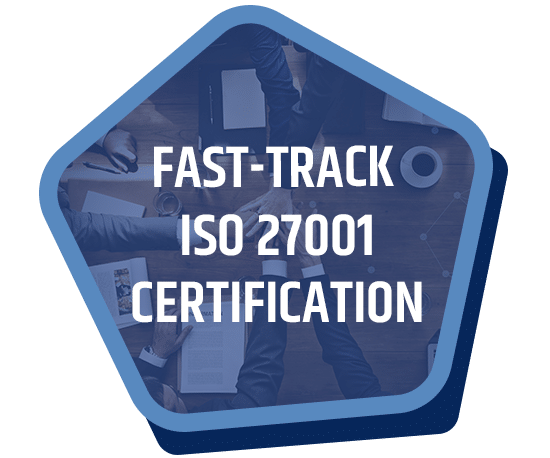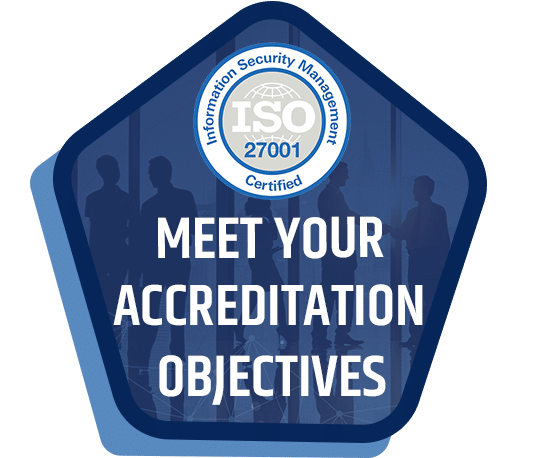 With eStorm as your partner, achieving certification is a guarantee
eStorm will assist you with obtaining contractual compliance for ISO 27001 certification by:
Identifying and understanding your full security maturity and posture
Identifying risks posing a threat to your organisation and objectives
Implementing all 114 control methods
Recommending software solutions to facilitate compliance
Building ongoing effectiveness of your ISMS
Achieving ISO 27001 compliance
Selecting the right suite of Microsoft security tools to aid in the implementation of your ISMS
What is ISO 27001?
The gold standard of Information Security Management Systems is ISO 27001, which is recognised globally and covers 114 security control methods. This ISMS contains all the resources, systems, tools, policies, controls, communication protocols and processes that manage information security in an organisation. Benefits of ISO 27001 certification include:
Increased security
Partner and client confidence
Win new business
Comply with regulatory requirements
Improve internal structure
Get a 77% headstart with eStorm & ISMS.online
Pre-configured ISO 27001 Requirements

ISMS.online's ISO 27001 solution comes pre-configured for you easily follow the requirements and Annex A controls. It saves you time from setting up your own complicated folder structures, permissions and version controls which can often end up messy and difficult to follow.
Toolkits & Templates
ISMS.online provides a plethora of tools to effortlessly achieve ISO 27001 compliance while supporting business continuity. The platform comes pre-configured with ISMS elements you need for success, such as risk registers, an interested parties map, asset inventory, incident management, measurement reporting, risk management reporting, supply chain management, procedure documentation, staff awareness/compliance assurance, and much more!
Assured Results Method
The ISMS.online Rest Assured Results Method lays out a clear and practical path to first time ISO 27001 success. The method shows you how to take advantage of shortcuts and avoid pitfalls and shares simple, practical guidance through to certification. It also simplifies team and project management, by keeping your ISMS implementation team on the same page at every step, ordering your ISO 27001 progress for peak efficiency, and giving you a clear overview of what you've achieved and what's still outstanding.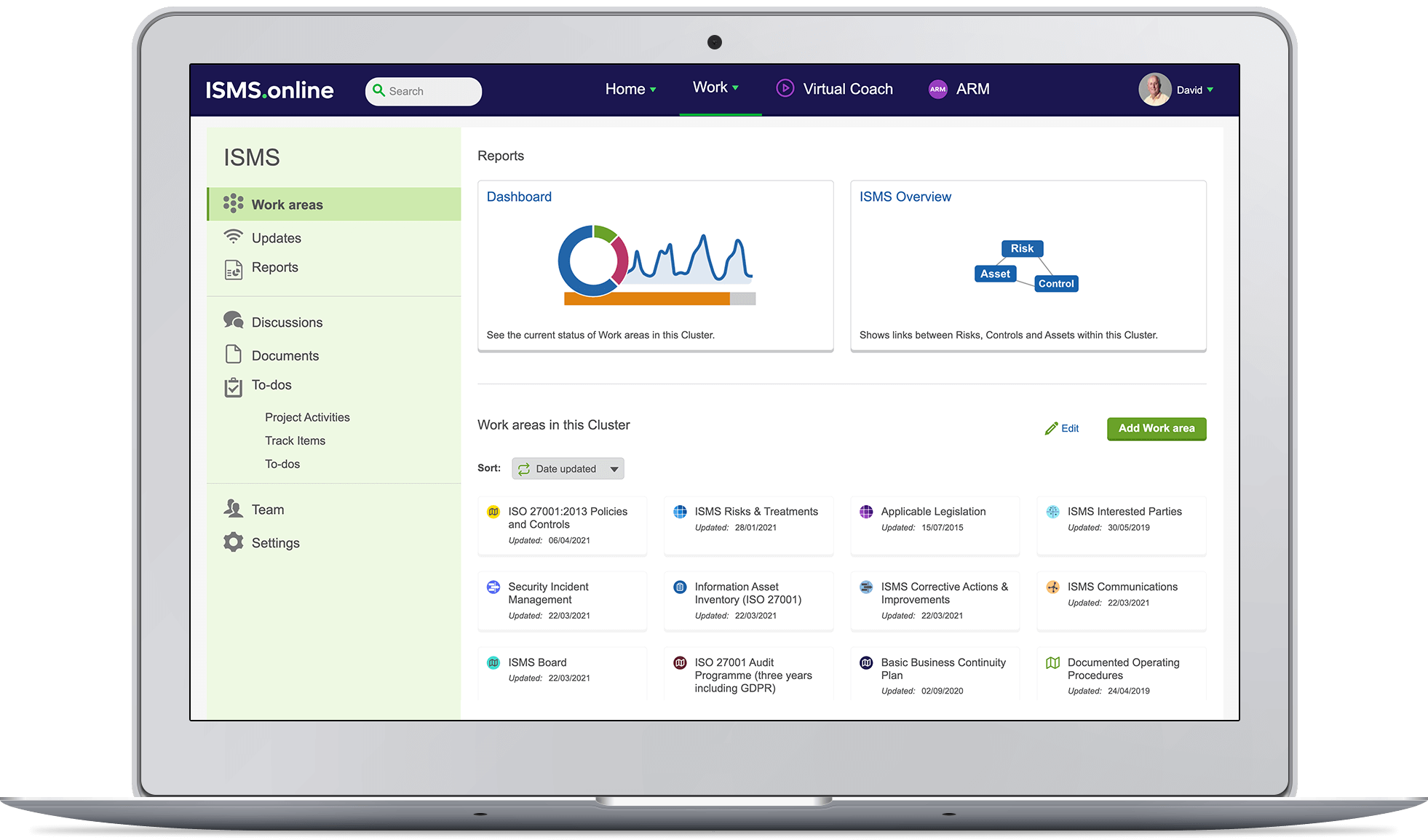 Achieving ISO 27001 Certification can be an overwhelming, time-consuming and frustrating experience.
We can change that.
Case Studies
Get business driven results with eStorm.
SO WHAT IS APPLE CLASSROOM? First of all, Apple Classroom is not really like Google Classroom. Google Classroom is more equivalent […]
  Gone are the days of simply choosing the drive that had the largest capacity that your budget could afford. Solid-state drives […]
If you're a non-techie who has been left to look after the IT department of your workplace, you may be […]
Work better with eStorm
See why businesses all across Australia and NZ partner with eStorm Australia