Managed IT Services
Remove the hassle of business IT management and maintenance with expert Managed IT Support headquartered in Brisbane. No more wasted staff hours to technical issues or computer problems — just more time focused on what you do best.
What is an MSP? (IT Managed Service Provider)
Managed IT support is a subscription-based outsourcing of IT systems management for businesses. This includes the management of other IT processes and functions intended to improve business operations and reduce costs.
The goal of managed IT services and support is to help your business run more effectively by transferring the burden of managing and maintaining your IT software, hardware and environment to us.
As your IT managed service provider, we undertake the day-to-day maintenance, upkeep and functionality of your IT service, equipment and overall infrastructure. Our team is also available to support any short or long-term IT strategy and expansion.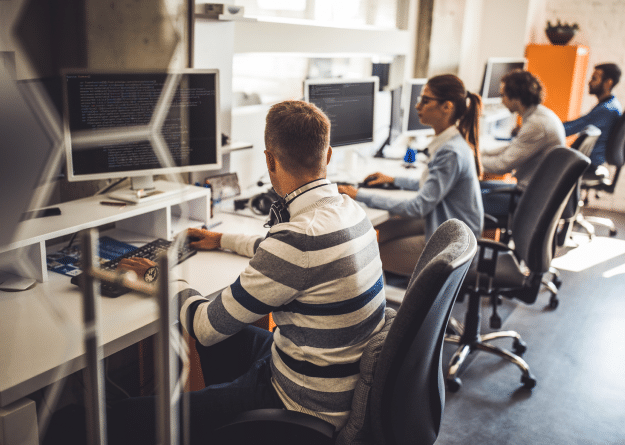 What you get with eStorm's Managed IT Service package

Don't spend another minute searching online for how to fix your computer and IT issues. With our remote technical support, Help Desk access and face-to-face on-site Managed IT Services in Brisbane, you're never more than a click or call away from having your IT issues fixed by our friendly team of ICT experts. We are also able to provide on-site support for businesses in Brisbane

Our regular health checks on your core IT infrastructure not only reduce the risk of potentially disastrous hardware failures, but help to identify your IT's strengths and weaknesses so steps can be taken to ensure you get the best performance out of your IT investment and Managed IT Solutions.

From anti-virus and malware protection to 24x7 monitoring and business-wide IT security, we help keep your business and data safe with best in class IT and cybersecurity solutions that are tailored to your business.

Our scheduled maintenance helps your business reduce interruptions and downtime while keeping everything secure, up-to-date and performing at its peak. From software checkups and repairs, patches and updates, defragmentation and more, we ensure your IT system is up-to-date.
3 key reasons why businesses partner with a Managed Service Provider
Minimised downtime and cost reductions
With fully qualified expert IT technicians just a click or call away, and response times within the hour, your staff are no longer spending valuable work hours searching for fixes to IT problems. With 24x7 proactive monitoring of your IT systems, we're able to identify and address any issues before they cause damage, interruptions to your business or financial loss.
Security
With over 43% of cyber attacks targeting small to medium businesses, it's vital that vulnerability assessments and threat management, as well as secure user access and verification, become commonplace for your business. At eStorm, we're always working with leading technology vendors and testing the latest in world-class technology, tools, systems and security to deliver the best and safest IT solutions. We believe in delivering the best results for your business.
Peace of mind
With a reliable IT managed services provider you can rest easy knowing that, no matter where you are or what issue arises, you have skilled professional IT experts in your corner who are prepared and ready to help you. The eStorm team understands that each business is unique, so we tailor our service to suit you. From on-site back-up management, monitoring application functionality and device management we can trust our team to support your IT needs every step of the way.
Case Studies
Get business driven results with eStorm.
Why choose eStorm as your trusted managed IT service provider

Your competitors aren't spending their time troubleshooting and fixing their own computer problems. Their Microsoft Outlook isn't loading emails? They're not spending time running a search on Google for how to fix it. They're picking up the phone and having their IT Managed Service Provider connect to their computer to fix it in minutes so they can get back to working on their business.

With dedicated Australia based account managers and over 15 years of experience, we are your IT managed network operations team. We are your information technology experts, your IT service desk, your cloud computing experts, and your tech support team. Any IT related enquiry, we're just a phone call or email away
From fortnightly scheduled visits, guaranteed fast response times, unlimited support hours (on-site and remote), and tailored managed IT solutions, the friendly eStorm team is here to support you.
Give employees and students the tools they need to have more ah-ha moments at work and in the classroom. Designed […]
RANSOMWARE ACTIVITY IS INCREASING THROUGHOUT 2016 Ransomware is becoming quite a common method of cyber extortion for financial gain.  This is a type of […]
  Gone are the days of simply choosing the drive that had the largest capacity that your budget could afford. Solid-state drives […]
Work better with eStorm
See why businesses all across Australia and NZ partner with eStorm Australia