Today Apple have announced the updated range of their iMac products, introducing a new 21.5-inch iMac with Retina 4K Display and 27-inch iMac with Retina 5K Display.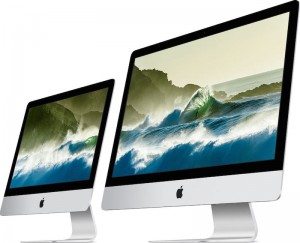 The new desktop computers feature faster processors and graphics, two Thunderbolt 2 ports and up to 2TB of Fusion Drive storage for stock configurations. The 4K 21.5-inch iMac has a 3.1GHz Core i7 Broadwell processor and integrated Intel Iris Pro Graphics 6200, while the 5K 27-inch iMacs have 3.2GHz to 3.3GHz Core i5 and i7 Skylake processors and dedicated AMD Radeon R9 GPUs.


Apple have also launched new Magic Accessories, including the Magic Mouse 2, Magic Trackpad 2 and Magic Keyboard.







The new Magic Mouse 2 now has a built-in rechargeable lithium-ion battery that uses a Lightning USB cable to fully charge in two hours. It also has a redesigned internal structure that includes fewer moving parts.


The new Magic Trackpad 2 features Force Touch (similar to the iPhone 6S and 6S Plus) and a larger edge-to-edge glass design with 29% more surface area.


The new Magic Keyboard features Bluetooth for wireless connectivity and also has a built-in rechargeable lithium-ion battery that will charge through a Lightning USB cable. The updated keyboard has been redesigned to give 33% more stability and offers a lower profile for more precise and comfortable typing.


All products are available through Apple's online store and retail stores today.


Apple Insider has done a review on the new iMacs and has written a guide to help you find what product will be best suited to your needs. Read more here.