We all know how important a great Wi-Fi connection is these days – but just how much can a sluggish connection affect your business? Studies show that for every $13,291 worth of salary, disengaged employees account for a $4,520 cost to their employer. However, a study by the Economist Intelligence Unit found that those who were untethered and connected to fast and reliable Wi-Fi via a device created a significant boost in productivity for the business.
More specifically:
16% boost in productivity
18% boost in creativity
Increase in job satisfaction of 23%
Increase in company loyalty of 21%
Employees felt more empowered
Employees felt more autonomous within their working practices
Over a 40-hour week, a 16% boost in employee productivity makes up an accrued total of an extra 6.4 hours per week, which translates into a total efficiency saving for employers of 41 working days per year per employee.
So – what's the solution to improving your internet speeds and coverage? At eStorm we use Ubiquiti UniFi AC access points.
First of all.. What is an access point?
An access point is a device that creates a wireless local area network, or WLAN. An access point connects to a wired router, switch or hub via an Ethernet cable and projects a Wi-Fi signal to a designated area. For example, if you wanted to have Wi-Fi access in your reception area but don't have a router in range, you can install an AP (access point) in the reception area and run an Ethernet cable through the ceiling that runs back to the router / server room.
The access point is used in conjunction with a router to extend the wireless coverage around your home/business. Coverage to "dead spots", distant rooms or other floors would be significantly improved. You might be asking – why not use a range extender? Range extenders are great for home Wi-Fi networks, however they just don't cut it for modern businesses. Range extenders can only support a limited number of devices at a time. Concurrently, while range extenders increase the coverage of the Wi-Fi router, they do not increase its available bandwidth. Depending on the number of devices connected simultaneously, a range extender could weigh down your entire connection.
Conversely, access points can handle a significant number of simultaneous connections, as well as allowing users to freely roam without experiencing network interruptions. As you move through your building, your device shifts seamlessly from one AP to the next without dropping the connection. Other advantages of using access points include:
Business-grade access points can be installed anywhere you can run an Ethernet cable with newer models being compatible with Power over Ethernet so there is no need to run a separate power line or install an outlet near the access point.
Captive Portal and Access Control List support, so you can limit guest access without compromising network security, as well as easily manage users within your Wi-Fi network. Select access points include a Clustering feature—a single point from which the IT administrator can view, deploy, configure, and secure a Wi-Fi network as a single entity rather than a series of separate access point configurations.
Why Ubiquiti UniFi AC Access Points?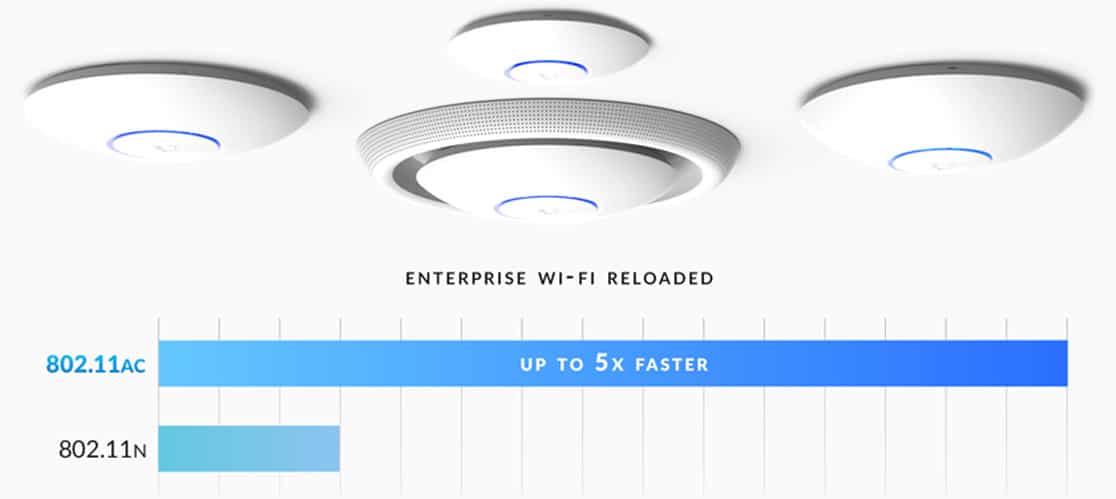 The Ubiquiti UniFi AC Access Point delivers wireless coverage, indoors or outdoors, in high-density deployments requiring low latency and high up-time performance. Available in five models, the new UniFi AC Access Point delivers the throughput needed for bandwidth-intensive applications, including HD streaming, large file transfers and cloud services with up to 5x faster speeds.
The UniFi Wi-Fi system combines enterprise performance and unlimited scalability. You can build wireless networks as big or small as needed all while maintaining a single unified management system. Easily accessible through any standard web browser and the UniFi mobile app (iOS or Android), the central management controller software to configure and manage your access points is easy-to-learn with a simplified user interface. This allows you to quickly configure and administer an enterprise Wi-Fi network without the need for special training or knowledge.
One of the best things about using these units is the RF environment functionality to detect and troubleshoot any nearby interference, analyse radio frequencies, choose optimal access point placement and configure settings. This allows you to identify deadspots and other areas where your Wi-Fi might be lacking in order to fix them and deliver the best results possible.

The reality is that domestic level Wi-Fi access points just don't cut it in a work environment anymore. Enterprise level access points offer features that consumer grade APs simply cannot deliver, such as:
Superior security features
Exceptional reliability
Redundancy
Greater flexibility
The ability to scale
Learn more about eStorm's business internet and how we can help solve your speed and connectivity issues. Specialising in managed network services, we understand the importance of reliable, secure and optimised communication. If you're looking to improve, overhaul or optimise your current business network technologies or internet services, our specialists are here to help. Give us a call any time on (07) 3120 0640 to discuss how we can help improve your business' network coverage, or email us at [email protected]