This week eStorm Australia released our PBXaaS and VoIP services for businesses and we want to give you an overview of what this can mean for your business.
PBXaaS (PBX as a Service) from eStorm Australia is a revolutionary business telephony service that provides an industry leading feature set, without the traditional maintenance, hardware, phones and cabling.
With features such as multi-way calling, voice to email and call diverting, internal and external communication could not be easier, or cheaper! For a full list of the features we offer, check out this page.
VoIP calls are a cheaper, yet better quality alternative to regular phone calls. eStorm Australia offers one of the highest quality VoIP networks in the country, allowing us to provide you with the guarantee that your calls will sound at least the same, if not better than a regular phone call. eStorm Australia also offers some of the cheapest VoIP rates in the country.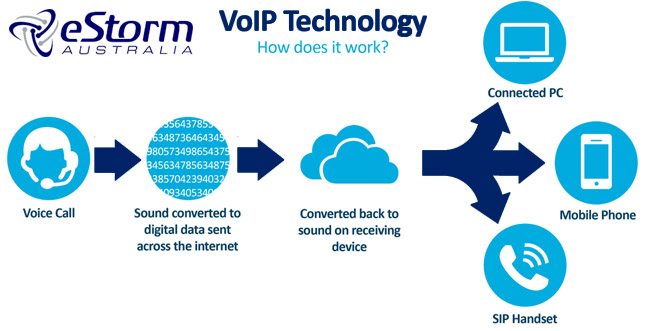 Why make the switch to VoIP?

Increased Flexibility And Mobility

Internet telephony enables users to integrate software programs, such as e-mail, e-fax, and remote conferencing over the Internet via the telephone. In other words, a VoIP user can speak to somebody over the phone while accessing other applications, including the Internet simultaneously. VoIP users can take their adapters anywhere, making it possible to hold telephone conversations at venues that offer an Internet connection. An increase in mobility assists individuals who are always on the move, especially corporate employees who are required to travel. Long distance VoIP calls are also relatively cheaper than traditional cell phone calls.
Increased Productivity

VoIP allows employees to multi-task without interruption by letting users attach documents, conduct virtual meetings, and share data via video conferencing. VoIP also has enhanced voice clarity to make it indistinguishable from, if not better than traditional telephony.
Cut Costs

The cost of using a VoIP telephone is much cheaper than using a traditional phone. Making long distance phone calls cheaper when using a VoIP provider. (See eStorm's prices here).
Overall, making the switch to VoIP and PBXaaS is a great benefit to your business in so many ways. For more information on this service, give us a call on 1300 378 676 or send us an email at [email protected]